On a technical level, I love the problem-solving aspects of orthodontic treatment. As a trained engineer, I love solving biomechanical problems, creating a sequenced plan, designing appliances, and monitoring the effects. I enjoy working with technology and analyzing outcomes.
However, the most meaningful part of my profession is the connection with you—my patient. I love to encourage you to work towards a goal of having a beautiful smile. I take a team approach to treatment and I make sure that you know that you are one of the most important members of our team. Having ownership of your orthodontic outcome is essential and can teach you valuable life lessons along the way. I am here to support you and care for you throughout your orthodontic journey.
Education and Continuing Studies
I began my journey into orthodontics growing up in Houston, Texas as the son of an engineer just a few miles away from Johnson Space Center. After an amazing four years at Vanderbilt University, I took my degree in biomedical engineering back to NASA where I worked as a flight controller in mission control. I loved working with a brilliant team using the world's most advanced technology to send men and women into space.
In order to pursue my goal of becoming an orthodontist, I attended the Medical College of Virginia, where in 2005, I earned my Doctorate of Dental Surgery and graduated magna cum laude. I gained acceptance into the OKU national dental honor society. I continued at the Medical College of Virginia and earned my Master of Science in orthodontics and dentofacial orthopedics in 2007.
I use my invaluable experience at NASA every day in my practice to apply a sophisticated team approach and use the most innovative orthodontic technologies to create beautiful smiles and healthy bites for my patients.
Staying up to date on the latest techniques and technology in orthodontics allows me to work effectively in a multi-specialty team to provide continuity of care to my patients. I am very fortunate to have brilliant colleagues that meet regularly to discuss the best treatments for our patients in my local dental study club.
Family and Community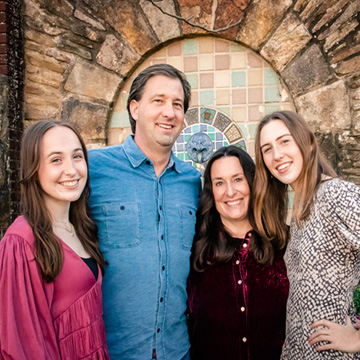 I have a wonderful wife Mary who cheers me on every day and keeps me grounded. We have been blessed with two beautiful and bright daughters, Claiborne and Macon, as well as an adorable Havanese named Bella.
When I'm not at work, I love to read and binge shows with my wife and children. I enjoy an occasional round of golf and have recently been captivated by the pickleball craze. Mostly, I enjoy time with my family.
While giving my patients beautiful smiles, I enjoy the relationships that I build with them and their families. Living, working, and raising children in Franklin, I have the pleasure of seeing my patients on the softball field, at violin recitals, and at church on Sunday morning. I live in an amazing community and I am honored to give back as a sponsor for our local schools and sports teams, and by giving orthodontic treatment to children in need through the Interfaith Dental Clinic.